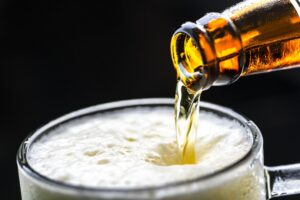 If your tastes gravitate to the sudsy side of the spectrum, you're going to want to mark your calendar for the first weekend in April—and you're going to want to make sure you're in the City of Sin for it. That's because the Great Vegas Festival of Beer goes down in all its hoppy and malty glory then: a celebration of fabulous craft beer, fabulously beer-friendly food, and all-around good times here in our grand desert metropolis.
You'll have plenty to eat, drink, and do at the Great Vegas Festival of Beer, but we want to invite you to take advantage of our 24-hour menu and all-around winning service here at Café Americano, a mere 15 or so minutes from the Downtown Las Vegas Events Center (DLVEC) where the brew bonanza is taking place.
The 2019 Great Vegas Festival of Beer
More than 100 breweries from the Las Vegas area and well beyond will be participating in this ninth annual Great Vegas Festival of Beer, presented by Motley Brews on Friday, April 5th and Saturday, April 6th. Those beermakers will be pouring 500-plus craft brews covering a dazzling gamut of styles and flavors, so whether you're specifically an IPA or stout or sour aficionado, or you embrace the full spectrum of the beer galaxy, you'll have an awful lot to sip on.
Among the local breweries taking part are Able Baker Brewing Co., Hop Nuts Brewing Co., CraftHaus Brewery, Tonopah Brewing Co., Hofbräuhaus Las Vegas, and Triple 7 Restaurant Brewery. They and other Vegas-area establishments will be joined by guest breweries from near and far, including Lagunitas, Stone, Hop Valley, Modern Times, Shades of Pale, Samuel Adams, Wasatch Brewery, Left Coast, and 21st Amendment.
All of that world-class beer calls for cuisine of equal caliber, and on that count the Festival of Beer also delivers mightily. Restaurants and food trucks joining the fun include Esther's Kitchen, Tacos + Beer, Hexx Kitchen & Bar, Dragon Grille, and Good Pie. The Get Motley VIP Chefs for the proceedings are Jose Navarro of Stache & Suit and Geno Bernardo of The Summit Club.
Music, meantime, comes supplied by performers such as Las Vegas's own The Lique, a hip-hop jazz group, and R&B artist Zach Gray.
Ticket options include General Admission, Early Entry, and the Get Motley VIP Lounge, plus the food-and-beer soiree of the Mad Craft Experience.
Join Us at Café Americano During the Great Vegas Festival of Beer
Attending the Great Vegas Festival of Beer this April, you'll be but a hop, skip, and a jump from our 24-hour restaurant here in the lobby of the legendary Caesars Palace. So whether you're kicking off your day of beer-tasting and culinary experiences, or keeping the party going in the wee hours of the night, come join us at Café Americano!