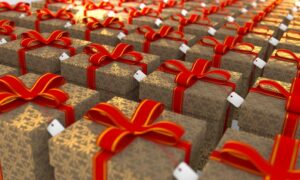 Chockablock with retail outfits of every description—from big-name department stores and international brands to one-of-a-kind local boutiques—Las Vegas is one of the best destinations in the country for holiday shopping, bar none.
If you're hitting up the Entertainment Capital of the World this fall to check some or all of those names off of your holiday list, we hope you'll bring that appetite of yours—revved up by shop-till-you-drop action—to Cafe Americano! We're open 24 hours a day, seven days a week, so you can always count on us for some much-needed refueling.
Here's a quick look at four of the biggest and best Sin City shopping complexes within easy reach of our restaurant.
The Forum Shops at Caesars (3500 Las Vegas Blvd S)
They don't come any more convenient, speaking of, than The Forum Shops, which are among our neighbors here at Caesars Palace. You'll be just steps away from Cafe Americano while you weave your way through this jampacked mall, which includes such go-to hotspots as Louis Vuitton, Abercrombie & Fitch, UGG, Polo Ralph Lauren, Victoria's Secret, kate spade new york, H&M, Gucci, Cartier, Tiffany & Co., and Ray-Ban.
Miracle Mile Shops at Planet Hollywood (3663 Las Vegas Blvd S)
A similarly comprehensive lineup of stores awaits you at Miracle Mile: everything from Foot Locker, Billabong, and Tommy Bahama to Skechers, Best Buy, Steve Madden, and Bath & Body Works.
Town Square Las Vegas (6605 Las Vegas Blvd S)
Another holiday-shopping magnet along the Strip, Town Square Las Vegas offers such options as Apple Store, Jacinta Boutique, Pop Kulture, Alter Ego Boutique, The Gaming Goat, and Banana Republic.
Las Vegas North Premium Outlets (875 S Gran Central Parkway)
At Las Vegas North Premium Outlets, meanwhile, you've got quite the impressive directory, including the North Face, Bose, Disney Store Outlet, Oshkosh B'Gosh, Dolce & Gabbana, Armani, Kay Jewelers Outlet, NIKE Factory Store, GAP Factory and GAP Kids, Adidas, FOSSIL, and Reebok Outlet, to name a few.
Join Us for a Homerun Meal at Cafe Americano During Your Las Vegas Holiday Shopping
Whether it's breakfast to charge up for a full day or shopping or it's a late-night collapse on the heels of one, we're here to ply you with awesome Latin-inflected American comfort food here at Cafe Americano, right in the main lobby of Caesars Palace. When you need a break from gift-getting, you know where to come: any time of day or night!