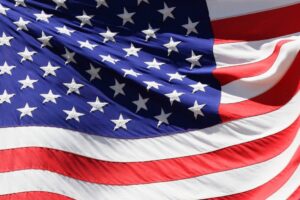 Looking to lock down some homerun Fourth of July plans for this summer? Why not spend America's birthday in its most exciting city, Las Vegas?
There's no shortage of parties and celebrations on tap, and some of the most vigorous will be going down at our home base here at Café Americano: the world-famous casino/hotel complex of Caesars Palace.
The Fourth of July at Caesars Palace
One of the very biggest and very best fireworks displays in Las Vegas goes down on the Fourth of July at Caesars Palace, with close to 15 minutes of dazzling pyrotechnics launched from the Julius Tower.
The show begins about 9:15 PM on Thursday, July 4th, and you'll be able to nab the perfect view from the fountains out in front of Caesars Palace along the Las Vegas Strip.
The boom and blast of the Thursday night fireworks will only be part of the Independence Day festivities at Caesars Palace: There'll also be DJ sets, pool parties, a foosball tournament, carnival games, and much more on tap as well.
Swing by Café Americano During Independence Day Celebrations at Caesars Palace
Situated as we are in the main lobby of Caesars Palace, we here at Café Americano offer the perfect place to get your eats and drinks on during the patriotic festivities on July 4th. We're open every day of the year, 24 hours a day, after all, and our diverse menu of Latin-inflected American comfort food is exactly what the doctor ordered when you're bedazzled by fireworks or fresh from the dance floor.
Join us for make-your-own pizzas or tacos, soul-satisfying burgers, our irrestitible Lollipop Wings, maybe an elegant plate of Mediterranean Seabass or New York Strip—paired with a Mojito or Caipirinha, perhaps, with which to toast the holiday, or a classy martini, an ice-cold craft beer, or a glass of wine instead. We also offer awesome breakfasts to hit the spot after the big, booming, pizzazz-ful evening.
Make Your Reservations for Fourth of July Dining at Café Americano Today
Don't delay: Lock down the wining-and-dining side of your Fourth of July fun in Sin City this summer with a reservation here at Café Americano in the main lobby of Caesars Palace. If you've got a large party with you (and a large collective appetite to boot), fear not: We can also accommodate all kinds of group-dining setups here at our 24-hour restaurant, so just let us know what you need for your Independence Day meal out and we'll look forward to welcoming you.
Whether you can make it to a Café Americano booth or not, here's wishing everybody out there a very happy and safe Fourth of July!