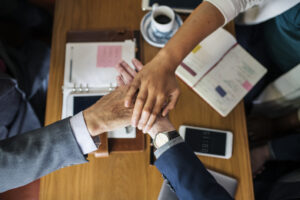 Looking for the perfect place to hold a business lunch along the Las Vegas Strip? Look no further than Café Americano, where you'll find delicious and broad-ranging cuisine, impeccable service, and awesome atmosphere right in the main lobby of Caesars Palace, each and every day of the year!
Our lunch menu is one of the great deals in town—and an auspicious foundation for a successful professional get-together.
The Lunch Box Menu at Café Americano: Setting Your Business Lunch Up for Success
With our Lunch Box menu here at Café Americano, you can mix-and-match your way to deliciousness. You get to combine the starter of your choice—from our Americano Chopped Salad, and Clam Chowder to Crispy Calamari, Beer Brined Wings, and Meatballs—with a lunch entrée: everything from our salmon- or tuna-based Poke Bowl to our Shrimp Jambalaya, Penne Pesto, and Cuban Sandwich.
It's a crowd-pleasing spread—as is the entirety of the Café Americano menu—sure to hit the spot for you and your lunch companions, whatever's on the conversational itinerary.
Other Café Americano Lunch Options
Of course, you aren't restricted to the Lunch Box route: We also offer a full-bore Café Americano lunch menu with a host of other appetizers, salads, and entrees, including a homerun lineup of taco options.
Don't forget our extensive drinks menu and our stellar spectrum of desserts, either: from Triple Chocolate Mousse Cake and New York Style Cheesecake to an assortment of freshly made gelatos and sorbets.
Group Dining at Café Americano
Maybe you're organizing a larger and/or more formal business lunch. At Café Americano, we happily host group and private dining, and will do everything we can to accommodate your needs. To learn more about we can offer in this department, just drop us a line via our Request for Proposal form here at the Café Americano website.
Join Us for a Business Lunch on the Vegas Strip at Café Americano
Whether a casual workday lunch or a more elaborate corporate dining function, make Café Americano your go-to destination for business lunches in Las Vegas. Our convenient location in Caesars Palace right on the Vegas Strip is recommendation alone; throw in the quality of our Latin-influenced American fare and our service—plus the fact we're open 365 days of the year—and you just can't go wrong!
Make your reservation at Café Americano today, and we'll look forward to welcoming you to your table!