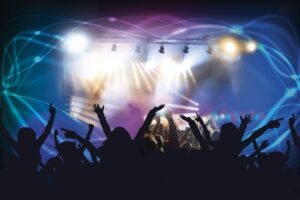 Take in some Old World tune-age and across-the-board culture at the European Music Fest here in Las Vegas this May—and make sure you have room for a little wining and dining at Café Americano for the occasion!
The European Music Fest (EMF) 2019
The European Music Festival, or EMF, brings a slew of high-profile performers from across Europe to the festival stage at the LAWN in Downtown Summerlin (1980 Festival Plaza Dr, Las Vegas, NV) from Friday, May 3rd through Sunday, May 5th.
The multilingual, multicultural good times go down from 4 PM to midnight on Friday and Saturday and from noon to 9 PM on Sunday.
This year's headliners include Francesco Napoli, Christos Meridiatis, and Neda Ukraden on Friday; Andrea Bulgaria, Celia, La Bouche, and Alexandra Stan on Saturday; and Ricardo & Amira, Natalya Grozovskaya, and La Sonora Dinamita on Sunday, not to mention the Romanian duo Authentic each day of the festival. (Check out the full EMF lineup here.)
The entertainment won't be confined to the stage, either: The EMF grounds in the shadow of Red Rock Canyon will come spiced up by street performers, dancers, and other wandering entertainers.
Food & Drink at the 2019 European Music Fest
Europe's spectacular wines and beers will be spotlighted during the EMF, plus a whole host of Old World eats courtesy of vendors such as Firefly Tapas Kitchen & Bar, Crown & Anchor British Pub, Kyklos Greek Café, the Polish American Social Club of Las Vegas, German Bread Bakery, Shawarma Plus, and Ojax Mediterranean Grill.
Our sister Las Vegas restaurants Mercato della Pescheria (Italian) and La Cerveceria de Barrio (Mexican) will also be on hand for the proceedings—definitely check out their gastronomic pleasures!
European Landmarks on Display
Another highlight of the EMF? Why, the opportunity to do some European sightseeing without leaving Sin City! The festival grounds will include replicas of several defining landmarks, including the Eiffel Tower, the Temple of Zeus, and the Leaning Tower of Pisa. A traditional German beer hall and Irish pub will also be represented, happily enough.
Enjoy Café Americano Cuisine & Atmosphere During This Year's European Music Fest
Taking in the continent-hopping sounds, flavors, and transplanted architectural icons of the EMF, you'll be within a half-hour of our Latin-influenced American cuisine here at Café Americano. Join us in the lobby of Caesars Palace for fantastic food, a whole smorgasbord of libations, and vivacious atmosphere—24 hours a day!