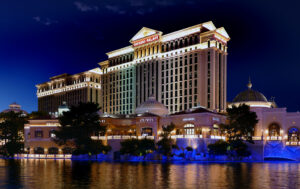 If you're considering a career in the red-hot industry of cyber security—or you're looking to expand your knowledge and skills in that arena—you may well be making tracks to Las Vegas this September for the SANS Network Security 2018 conference.
One offer at this gathering at Caesars Palace will be a slew of courses covering a broad swath of cyber-security topics, delivered by leading authorities in the field. Buzzing from all the freshly digested information and a lot of awesome networking, you're going to need some mid-conference fuel: You'll thank your lucky stars that Café Americano is serving up great eats 24 hours a day, seven days a week right here at Caesars Palace!
SANS Network Security 2018
This year's SANS Network Security Las Vegas conference goes down Sunday, September 23rd through Sunday, September 30th at Caesars Palace, one of Las Vegas's iconic event venues. The 45-plus courses—two, four-, five-, and six-day affairs—include quite a few brand-new sessions on such subject matter as Wireless Pen Testing and Security Architecture. "As cyber security threats change daily and attacks become more aggressive," the SANS Institute, which presents the conference, explains on its website, "SANS helps you stay ahead of the curve by providing unique, hands-on immersion training you can implement the day you return to work."
SANS Network Security is also a great opportunity to mingle with fellow trainees and industry professionals. And there'll be a wide range of exhibitors presenting cutting-edge security solutions for a wide variety of applications.
Chad Tilbury, meanwhile, delivers the conference's keynote address: "WMI Attacks": What You Don't Know CAN Hurt You."
Conference Dining at Café Americano
Las Vegas dining during SANS Network Security 2018 the last week of September doesn't get any more convenient than Café Americano, situated right in the main lobby of Caesars Palace. Breakfast, lunch, dinner, and our much sought-out Late Night Cravings Menu: We've got diverse, top-quality American comfort food (with a bit of a Latin twist) for your gastronomic pleasure 24 hours a day, so we're here for you whenever the conference excitement inspires an appetite.
Perhaps you'll be beelining for Café Americano with a large group of fellow conference-goers, instructors, or organizers. Well, we're nicely set up for group dining, with large tables and bookable private spaces for parties of all sizes. Drop us a line via our Request for Proposal form and we'll get things set up for your SANS Network Security 2018 crew!
Join us for a meal and cocktails here at Café Americano during SANS Network Security 2018 at Caesars Palace!