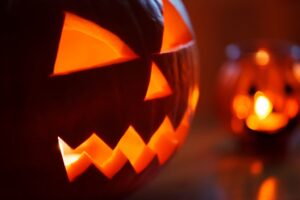 If you'll be celebrating Halloween in Las Vegas—a fantastic place to mark this spook-heavy holiday—we invite you to make a meal at Cafe Americano part of the festivities! Our 24-hour restaurant in the main lobby of Caesars Palace is a great place for group and private dining, so if you've got a larger or more organized All Hallow's Eve feast in mind, look no further!
Halloween 2019 in Las Vegas
As you'd expect in the Entertainment Capital of the World, Halloween comes exuberantly observed in Las Vegas, with no shortage of festivals, parties, family-friendly trick-or-treating, haunted houses, and scare zones going down all around the city. We don't have the room to spotlight more than just a tiny sample of the Halloween fun in store this year, but hopefully the following will at least give your Vegas plans a foundation.
The Fremont Street Experience has its own major Halloween bash, Rock of Horror, which is a guaranteed good time of mega-scale spectacle and a lot of high-"spirited" revelry. The proceedings will include lots of live music, a costume contest rewarding the most creative and all-in outfits, and the "Wicked Dreams" stage show, not to mention some bird's-eye views of all the action on the SlotZilla zip line.
The one-of-a-kind Las Vegas Mob Museum, meanwhile, will host a Halloween 2019 in the Underground party on October 31 from 5 PM to midnight. On the itinerary are tarot card sessions, crystal-ball readings, and a costume contest, plus live jazz delivered by Lady & the Vamp. Admission is free, but this being the Mob Museum you've got to know the password (which—heads up—happens to be "Heebie-Jeebies").
You've also got what USA Today has proclaimed the country's most terrifying haunt: Freaking Bros. Horror Show, a fixture of Las Vegas's Hallowen scare-scape since 1976. Its terrifying realms this year—yours to explore most days this month—include Gates of Hell, Coven 13, and Castle Vampyre, ending its long run in 2019.
Group Wining & Dining for Halloween at Cafe Americano
Come join us in your costumed best (or non-costumed, whatever your Halloween strategy) for All Hallow's Eve this year in Las Vegas. Whether you're joining us on Halloween proper, the event-packed weekend before, or any other day in this witching window, Cafe Americano is the perfect spot for a delicious and festive meal anchored by our comfort-food menu—American cuisine with some Latin accents—and our extensive drinks list. We can accommodate all kinds of group setups, including spaces for large parties and semi-private/private events; just drop us a line through our Request for Proposal form and we'll help you make it happen!