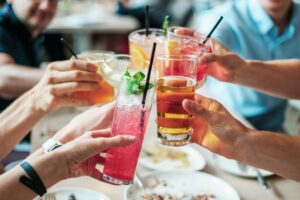 Headed to Sin City for one of the country's biggest and best epicurean festivals this spring, Vegas Uncork'd? Well, you'll certainly be joining quite the party—among the highest-profile of the year, in fact, here in a city that definitely knows how to celebrate. We invite you to make Café Americano—situated inside one of the event's main headquarters, Caesars Palace—part of the experience.
Vegas Uncork'd 2019
It's the 13th annual edition of Vegas Uncork'd, presented by Bon Appétit May 9th through the 12th at several of the Las Vegas Strip's iconic casino-resorts as well as some other venues.
Top chefs, sommeliers, mixologists, and culinary personalities—many who work or run establishments in this city, one of the world's hottest restaurant hotspots—will once again be participating in the festival, among them Lisa Vanderpump, Gordon Ramsay, Susan Feniger, Guy Savoy, Juyoung Kang, Michael Voltaggio, and Lorena Garcia.
Happenings at This Year's Vegas Uncork'd Festival
From themed meals and food, wine, beer, and spirits tastings to mixological masterclasses and gala parties, Vegas Uncork'd is a must for any and all foodies, not to mention those cosmopolitan bon-vivant types who like to see and be seen.
Highlights of the Vegas Uncork'd 2019 itinerary include several extra-special "Master Series" sessions here at Caesars Palace: an Evening of Steak & Scotch with Greg and Marc Sherry (Thursday, May 9th at 7 PM); Beyond the Blade with Chef Nobu Matsuhisa (Friday, May 10th at noon); Gordon Ramsay's Favorite Things with—well, Gordon Ramsay (Saturday, May 11th at 2:30 PM); and The World's Best, An Epicurean Affair with Guy Savoy (Saturday, May 11th at 6:30 PM).
Then there's the heart of the festival: the Grand Tasting, which goes down Friday evening from 7 to 10 PM at the Garden of the Gods Pool Oasis at Caesars Palace and features a whole slew of culinary enticements and an all-around good time.
You can check out the complete schedule of events at this year's Vegas Uncork'd right here.
Join Us at Café Americano During Vegas Uncork'd
Our 24-hour restaurant here at Café Americano awaits your appetite for food, drink, and that irresistible Las Vegas Strip appetite right in the main lobby of Caesars Palace. Whether it's breakfast, lunch, or dinner or simply a celebratory round or two, we're the perfect place for group dining during the Vegas Uncork'd festival: We'd be happy to accommodate your party, large or small, and can easily arrange for private dining as well. Just get in touch with us and let us know your needs, and we'll look forward to welcoming you to our table this May!