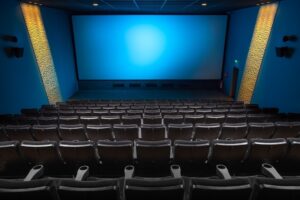 If you're coming to Las Vegas this spring for the world's biggest get-together of movie-theater owners and its associated trade show, we invite you to dine with us here at Café Americano: as convenient a place to bring your appetite during this year's CinemaCon as you could ask for!
Our 24-hour restaurant sits right in the main lobby of Caesars Palace, the glitzy Sin City venue for the 2019 CinemaCon, so we're here for you whenever you need us.
CinemaCon 2019 
The official convention of the National Association of Theatre Owners—aka the "other" NATO—CinemaCon draws attendees from all over the world, with more than 80 countries represented. The action takes place Monday, April 1st through Thursday, April 4th at Caesars Palace.
The kickoff to the convention is Monday's International Day; its highlights include keynote addresses by Jane Hastings (the CEO and managing director of Event Hospitality & Entertainment Ltd.) and Yu Dong (founder, chairman, and CEO of Bona Film Group) as well as the International Day Lunch & Award Ceremony, among the honorees of which will be Bohemian Rhapsody producer Graham King.
On Tuesday, you've got such offerings as a panel discussion—"A Powerful Audience Growth Strategy: Culturally Diverse Movies & Content"—from 7:45 to 8:45 AM in the Palace Ballroom III as well as live music, dancing, and other fun that evening at the "NEON Goes Country" party in the Octavius Ballroom, celebrating the upcoming release of Wild Rose.
Wednesday's panel is "The Straight Truth: Documentaries Mean Business, Big Business" from 7:30 to 9:15 AM in the Palace Ballrooms. The last day of CinemaCon culminates with the Big Screen Achievement Awards at 7:30 PM in The Colosseum: This year's recipients include such Hollywood figures as Jamie Lee Curtis, Olivia Wilde, Seth Rogens, and Charlize Theron. The after party in the Octavius Ballroom will feature live entertainment from Human Nature.
Throughout CinemaCon, the Trade Show displays "the latest and most important advances in theater equipment and concession products," while conference-goers will get to enjoy sneak peeks at upcoming releases from Warner Bros., Universal, Paramount, and Walt Disney Studios.
Visit Us at Café Americano During CinemaCon 2019
Whether it's a hearty breakfast to kick off a jampacked day of panels, screenings, and trade-show explorations, a cocktail hour with fellow attendees, or simply a midnight snack, join us here at Café Americano while you take in the delights of CinemaCon: We're all under the same Caesars Palace roof, after all, and we'd love to serve you some of our fabulous, Latin-flavored American cuisine during the four-day event!