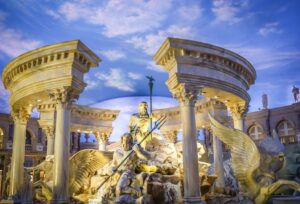 Since 1966, Caesars Palace has been delighting Las Vegas visitors with around-the-clock entertainment and luxury. Whether you're calling the iconic Strip landmark your home away from home in Sin City or simply stopping by for a show or some quality time in the legendary casino, we invite you to dine with us here at Café Americano. We're right in the Caesars Palace main lobby, so you couldn't ask for a more convenient spot for pitch-perfect dining whenever you find yourself here: 24 hours a day, 365 days a year!
Crowd-Pleasing Cuisine in Caesars Palace at Café Americano
Our Latin-inflected American cuisine here at Café Americano hits the spot every time. Our menus are broad and diverse enough that just about everybody will find something to delight his or her palate, and meanwhile we serve our customers with genuine warmth and fully engaged attentiveness.
Open as we are at all hours of the day and night, we're ready to cater to whatever your appetite's hankering for. Our breakfast menu provides the perfect fuel for grabbing the Entertainment Capital of the World by the horns: from our lavish Blueberry Crumble Belgian Waffles and indulgent Nutella French Toast to our spin on Huevos Rancheros and our cooked-to-perfection frittatas. If you want to go on the lighter side of things, consider our Granola Yogurt Parfait or Steel Cut Oatmeal—or maybe just grab a quick smoothie from our Café Americano Juice Bar.
Then there's our popular "Lunch Box" setup, which allows you to mix-and-match appetizers (from clam chowder and crispy calamari to Caesar salad and our quinoa bowl) and entrees (sandwiches, tortellini, a poke bowl, and more).
Our dinner tasting menu gives you full rein of our starters and main courses, from the Guacamole Quesadilla and our Grilled Artichoke Hearts to Roasted Free Range Chicken, Mediterranean Seabass, and New York Strip.
At Caesars Palace, the nocturnal scene's as exuberant as the daytime one, and we're here to serve any and all-night owls with our Late-Night Cravings menu on offer from 2 to 6 AM. From Lollipop Wings to our Classic Burger, this is exactly what you're jonesing for in the wee hours at one of Las Vegas's best-known hotel-casinos.
Besides our smoothies and coffees and sodas, we've also naturally got an extensive lineup of bar libations: from cocktails to draft beer and wine.
Join Us at Café Americano for a Caesars Palace Feast
Whether it's the late-night munchies, a lazily late breakfast after an evening out, or a midday meal, join us here at Café Americano in the main lobby of Caesars Palace for some of the finest and most auspiciously situated dining on the Las Vegas Strip!