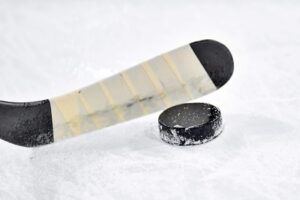 If you'll be taking in some on-the-ice action courtesy of Sin City's very own professional hockey team this fall, we invite you to enjoy a pre- or post-game feast here at Café Americano: just a slung hockey puck away from the Vegas Golden Knights stadium!
The Vegas Golden Knights: Already a Force to be Reckoned With
The Vegas Golden Knights launched only in 2017 but have made a real name for themselves in the National Hockey League's Western Conference: Their inaugural season saw them top the conference and proceed to the Stanley Cup Finals, where they fell to the Washington Capitals 1-4. Not bad for your first time out of the gate!
The Golden Knights play at the T-Mobile Arena on the Las Vegas Strip, just a few miles away from Café Americano here at Caesars Palace. We couldn't be much more convenient to the rink, needless to say…
The Golden Knights lay claim to a pretty awesome mascot in the form of Chance. He's a Gila monster: a venomous (but docile) lizard with a beautiful beaded hide that's native to southern Nevada's Mojave country.
Upcoming Vegas Golden Knights Home Games
The Vegas Golden Knights started the preseason with a home game against the Arizona Coyotes on September 15th.
They'll be rounding out the preseason at T-Mobile Arena with games against the Colorado Avalanche (September 25th), the Los Angeles Kings (September 27th), and the San Jose Sharks (September 29th).
The Sharks will be the Knights' opponents for the team's regular season opener: a home game on October 2nd. The Knights'll next play at home against the Boston Bruins on October 8th, the Calgary Flames on October 12th, the Nashville Predators on October 15th, and the Ottawa Senators on October 17th.
The team closes out October with three home games in Vegas: against the Colorado Avalanche on the 25th, the Anaheim Ducks on the 27th, and the Montreal Canadiens on the 31st.
Check out the complete Golden Knights season and get a hold of tickets right here.
Join Us at Café Americano for 24-Hour Dining While Enjoying Golden Knights Hockey
A mere hop, skip, and a jump from T-Mobile Arena, our restaurant in the main lobby of Caesars Palace provides soul-satisfying eating 24 hours a day, each and every day of the year. We're thus the perfect destination for breakfast, lunch, dinner, and everything in between—including late-night cravings—when you're taking in some Vegas Golden Knights hockey on the Strip.
Join us this fall during hockey season—and, meanwhile, go Golden Knights!