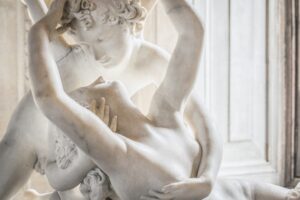 Young and old alike delight in the wonders of the world on display at the Las Vegas Natural History Museum (900 Las Vegas Blvd. North), just a hop, skip, and a jump from our 24-hour Vegas Strip eatery here at Café Americano!
Introducing the Las Vegas Natural History Museum
Opened in 1991, the Las Vegas Natural History Museum is a Smithsonian Affiliate institution and one accredited by the American Alliance of Museums. It's open every day but Thanksgiving and Christmas Day from 9 AM to 4 PM (except for New Year's Day and Easter, when the museum opens at 11 AM).
It hosts a fantastic spread of exhibits basically guaranteed to catch and hold your interest, let alone the imaginations of any young museumgoers you've got in your charge. They include a formidable display of some of the "thunder lizards" that roamed Nevada during the Cretaceous—Tyrannosaurus rex and Triceratops included—in the Prehistoric Life Gallery. A perfect complement to that bygone menagerie is the Dinosaur Mummy CSI exhibit, which shows off the amazing mummified remains of a 23-foot-long hadrosaur nicknamed "Leonardo."
Ice Age beasties, meanwhile—including mammoth and camel remains collected here in the Las Vegas area—are on parade in the Prehistoric Mammals Gallery, while among the other natural-history dioramas is a lineup of native Silver State wildlife in the Wild Nevada Gallery.
Treasures of Egypt offers 4,000 square feet of astonishing antiquities; the spread includes a rare authorized replica of Tutankhamun's tomb.
There's hands-on learning and fun on tap in the Cox Charities Young Scientist Center at the museum, the interactive exhibits of which cover a lot of territory.
Did we mention there are live critters at the Las Vegas Natural History Museum, not just fossilized and mounted specimens? You can nab up-close looks at everything from sharks and rays to tarantulas and Burmese pythons here, too.
Special Exhibit Currently on Display: Dinosaurs Take Flight
Through September 15th, you can delve deeper into dinos in the Dinosaurs Take Flight special exhibit, which focuses on the feathered Archaeopteryx and the rise of modern birds.
Make It a Double-Header With the Las Vegas Museum of Natural History & Café Americano
All those toothy dinos, long-horned bison, and Egyptian artifacts are sure to drum up quite the appetite, and we're ready to satisfy it here at Café Americano! We're open 24 hours a day, 365 days a year, and we'd love to host you for a post-museum feast here in the main lobby of Caesars Palace.