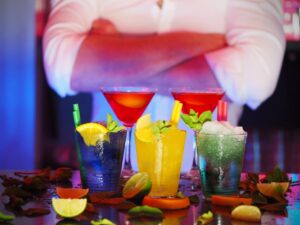 It's summer in Las Vegas, and that means it's high time for a cocktail, wouldn't you say? A good thing, then, that Cafe Americano not only serves a formidable and creative arsenal of zesty mixed drinks, but that we're open 24 hours a day: We're the perfect cocktail destination during the season's long, action-packed nights, whether you're out casino-hopping, catching a show, or drifting happily from club to club with friends.
Here are some of the very choicest summer craft cocktails served anywhere in Vegas, at your full disposal here at Cafe Americano! Come wet your whistle with us while enjoying some outstanding American cuisine.
Caipirinha
A much-loved tropical drink ideal for summer in the City of Sin, this is Brazil's national cocktail: a blend of the rum relative cachaca, soda water, and fresh limes that'll have you swooning.
Mojito
Wait—are you in Las Vegas, Nevada or Havana? Your geography may get a little muddled after a sip of our Cafe Americano Mojito, such is the expert mixology behind our version of the classic Cuban libation: a refreshing blend of rum, mint, and lime.
Cuba Libre
Same goes for our Cuba Libre. We make that bewitching Cuban highball with Don Q Rum, Pepsi, and lime juice, and there's a high probability of you falling completely in love with it.
Lychee Martini
If you've never tasted the sweet, succulent Chinese fruit known as the lychee, this is a great opportunity, given it comes backed up by some sturdy Skyy vodka. Taste our Lychee Martini and you'll summon tropical R&R immediately.
Cape Codder
Toast a summer day well spent in the Entertainment Capital of the World with our Cape Codder cocktail, a thirst-quenching masterpiece of Tito's Vodka, cranberry, and lime juice.
The Gazillionaire
Inspired by the glitz, glamour, and 'round-the-clock edge of Vegas, the Gazillionaire includes that legendary spirit absinthe to ensure any summer night you savor it will be an adventure.
And More, and More…
We haven't even gotten to our Moscow Mule, our Long Island Iced Tea (hold onto your boots!), our Mimosa and Manhattan and Margarita and Orange Blossom Spritz—not to mention a small army of Bloody Marys. Suffice it to say we've got a summer craft cocktail here at Cafe Americano with your name on it. Come celebrate summer with some mixological masterpieces at our restaurant here in the always-happening main lobby of Caesars Palace!