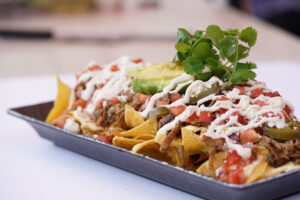 An exceptionally important national day is just around the corner, one of the hallowed dates on the calendar, with schools and businesses closing and huge organized celebrations part of the proceedings.
OK, we kid: The occasion we're drawing your attention to is actually National Nachos Day, and while perhaps not the biggest deal in the world it's nonetheless a great opportunity to indulge in what easily ranks among the most perfect appetizers ever concocted. In Las Vegas, you couldn't ask for a better spot to do so than Cafe Americano, where our own house nachos and our 24-hour operations translate to an awesome National Nachos Day observance.
Nachos: The Backstory of a Melted Masterpiece
The invention of nachos is widely credited to one Ignacio Anaya, a maitre d' at a restaurant in the Mexican border town of Piedras Negras who went by the nickname—wait for it—"Nacho." In 1943, Anaya had to improvise when a group of hungry wives of American servicemen stationed at Fort Duncan across the border who were in town on shopping came to the restaurant after it had closed. Anaya cut up tortillas into triangles, fried them, and doused them with shredded cheese, heating the whole shebang and topping it with pickled jalapeños. He presented the snack to his appreciative diners as "Nacho's especiales": "Nacho's specials," a name that in short order flip-flopped to "special nachos."
Nachos soon gained renown in regional Tex-Mex cuisine, and Anaya himself eventually opened his own establishment in Piedras Negras, Nacho's Restaurant. In the 1970s, Frank Liberto started selling nachos at Arlington Stadium for Texas Rangers games and innovated a cheese sauce in place of perishable cheese that made nacho preparation all the easier. None other than Monday Night Football sportscaster Howard Cosell began singing the praises of the stadium's nachos, which certainly helped boost the profile of Inaya's creation.
These days, of course, nachos are a staple at stadiums, sports bars, and restaurants all over the country, and they come in about as many variations as you could imagine: from the simple and the straight-shooting to the (deliciously) over-the-top. National Nachos Day on November 6 just puts a little extra spotlight on a comfort-food indulgence enjoyed all year round.
Celebrate National Nachos Day at Cafe Americano
Our crowd-pleasing menu here at Cafe Americano is—as our name suggests—founded on American cuisine inflected with some Latin twists here and there. Among our appetizers you'll find a delicious house version of nachos we humbly suggest is the perfect centerpiece of a National Nachos Day celebration—however seriously or intensely you decide to mark it—in Sin City.
The Ropa Viega Nachos at Cafe Americano are a top-class expression of this noble munchie. They star some delectable slow-braised, hand-pulled brisket and incorporate house-picked jalapeños, Pico de Gallo, toasted chile crema, avocados, cotija cheese, and a cheddar sauce over our fresh corn tortilla chips.
If that doesn't get your appetite revving, we don't know what will. (Well, actually, we've got dozens of other culinary highlights of the Cafe Americano menu we'd bring up, but anyhow…) Swing by our 24-hour restaurant in the main lobby of Caesars Palace for a National Nacho Day to remember—and if you can't make it November 6, remember that every day can be National Nacho Day with the right attitude!