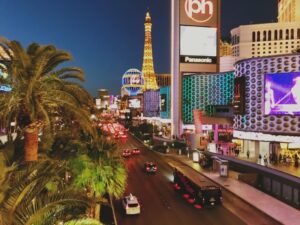 Las Vegas, of course, is the Entertainment Capital of the World, and that entertainment doesn't only take the form of all the top-caliber magic shows, blockbuster concerts, and other onstage spectacles or the around-the-clock casino fun. It also includes the iconic attraction of Madame Tussauds Las Vegas, which happens to lie just minutes from our 24-hour restaurant here at Café Americano!
You can't beat a crowd-pleasing meal with us matched up with a walkabout among the freakily lifelike stars at the City of Sin's very own branch of the most famous wax museum in the world.
Madame Tussauds Las Vegas
It's not exactly uncommon to nab yourself a celebrity sighting in Vegas, even not counting the megastars such as Elton John, Celine Dion, and David Copperfield who're regular fixtures on the Sin City stage.
But you'll have a 100% guaranteed celebrity sighting with a trip to Madame Tussauds Las Vegas, home to wax figures of such famous faces as Beyoncé, Drake, Justin Timberlake, Elvis, and Stevie Wonder.
Madame Tussauds Las Vegas opened in 1999 as the first stateside location of the Madame Tussauds museums. They got their start, of course, via the ambitious wax-sculpting artistry of Madame Tussaud herself: a Frenchwoman born Anna Maria (Marie) Grosholtz, who tackled the French satirist/philosopher Voltaire for her first sculpture and opened the original Madame Tussauds museum in London in the 1830s.
From Marvel superheroes (The Hulk, Nick Fury, Spider-Man, etc.) to Shaq, Muhammad Ali, Tiger Woods, Babe Ruth, and other sports icons, from Britney Spears, Lady Gaga, and Whitney Houston to legendary Vegas entertainers such as Wayne Newton and the Rat Pack, you've got an absolute overload of instant-classic photo ops awaiting you within the star-studded corridors of Madame Tussauds.
Make it a Las Vegas Twofer With Madame Tussauds & Café Americano
Work up an appetite and a thirst at Madame Tussauds Las Vegas, and then come satisfy the both of them here at Café Americano, right in the main lobby of Caesars Palace along the Vegas Strip! You'll love our Latin-tinted American cuisine, from Huevos Rancheros and frittatas to our Classic Burger, Guacamole Quesadilla, quinoa bowl, New York Strip, and Lollipop Wings.
The whole gang'll love the menu at Café Americano, which, mind you, is on offer 24 hours a day and 365 days of the year. You can't beat the one-two punch of Madame Tussauds Las Vegas and Café Americano!