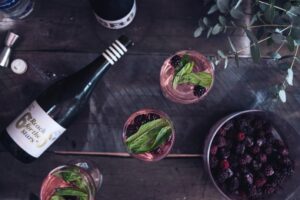 Quick: What are your plans for Tuesday, August 13th?
Is the date not ringing a bell? Perhaps it only would if you were a truly obsessive fan of the sparkling Italian wine known as Prosecco, for this square of the calendar happens to be National Prosecco Day.
Even if you didn't know there was a National Prosecco Day, we imagine you may be very pleased to learn of its existence, not least given this year's edition falls on a bleakly early-in-the-week workday. We invite you to come celebrate this obviously extremely important occasion right here at Café Americano: Even if you don't have a particular taste for Prosecco, you can always toast its national day with some other suitably celebratory libation.
National Prosecco Day
Prosecco is named for an Italian village near Trieste where this wine, traditionally made from Glera grapes, originated. The wine has been known by that moniker since at least the 16th century.
Hugely popular in its homeland, Prosecco is also widely drunk all around the world. Often consumed straight (as, for instance, an aperitif), Prosecco also shows up in several beloved cocktails, including the Bellini and the Aperol Spritz, and can stand in for Champagne in other bubbly-based mixed drinks such as mimosas.
Mark National Prosecco Day at Café Americano
If National Prosecco Day finds you in Las Vegas, the Entertainment Capital of the World, you know just where to go: the main lobby of the iconic Caesars Palace, where our 24-hour restaurant awaits you and your celebratory gusto.
If it's Prosecco you wish to quaff on National Prosecco Day, Prosecco it shall be—including in such classic concoctions as the Bellini, the Aperol Spritz, and the Orange Blossom Spritz (wherein it's joined with Stoli Ohranj Vodka, St. Germain Liqueur, and club soda).
Naturally you've got all sorts of other adult beverages to choose from if Prosecco isn't floating your boat, including a smorgasbord of other cocktails (from the Cape Codder to the Manhattan) as well as other wines and a variety of beer.
We'd be remiss not pointing out that this year's National Prosecco Day happens to fall on another special occasion: our weekly Taco Tuesday here at Café Americano. The Taco Tuesday menu, while devoid of Prosecco drinks, does have some alternative wet-your-whistle winners, including three varieties of margarita for $8 as well as $5 tequila shots or Mexican brews (Corona or Modelo Especial).
Join us at Café Americano for some mouthwatering eats and the drink of your choosing for National Prosecco Day in Las Vegas: Mark that calendar of yours for Tuesday, August 13th and start getting excited!