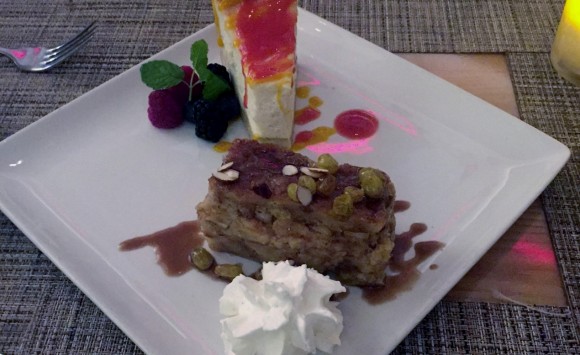 Café Americano is a 24-hour restaurant located inside Caesars Palace by the hotel lobby. The restaurant is billed as "All Fresh, All the Time." I can attest that it lives up to this standard. The experience was, simply put, amazing and exceeded our expectations. The service here is incredible. But the real star is the fresh, light food.
An often unique take on contemporary American cuisine is offered here. Café Americano's cuisine is inspired by the fresh and flavorful tastes found in Florida.
We started our meal with the Tuna Tartar and that was a great way to begin. This set the tone for the evening, and that tone was "freshness." The Tuna Tartar featured a unique combination of ingredients, including Florida mango and a wasabi mousse. These added a complexity of layers to the flavor that included a fresh sweetness and a spicy kick.
Another star on the menu is the Land & Sea, which features prime filet mignon and a 6 oz. cold water lobster tail. The filet practically melted in my mouth it was so tender. The lobster tail was cooked to perfection. It brought me back to my childhood days on the East Coast where fresh food from the sea was plentiful. This had a taste so fresh I felt I could actually taste the ocean.
I had the same feeling when eating the Lump Crab Cakes. There is only one way to make authentic crab cakes and that is with fresh ingredients. Between the lobster in the Land & Sea, and the crab in the Lump Crab Cakes, I forgot I lived in the middle of the dessert. I was half expecting to walk out of Caesars Palace and see the Atlantic Ocean.
For dessert, we had the Krispy Kreme Bread Pudding. The bread pudding, simply put, is second-to-none. This is the dessert that anyone visiting Café Americano should order.
The cocktails at Café Americano live up to the high standards of the food. There is something for any taste.
The Cucumber Martini was the star of the drinks menu for me. It features Sky Vodka, cucumber, Combier, mint and orange bitters. The flavors combined for a light, refreshing taste.
f you have a sweet tooth like I do then the Espresso Martini is for you. Made with Absolut, espresso, Kahlua and dark cocoa, this martini is a decadent dessert in a liquid form.
If you are not a seafood connoisseur, Café Americano has a large menu that features a little of everything from breakfast to sandwiches to an assortment of entrees.
Café Americano features a relaxing environment, terrific service, great food and drinks. All of these together combine to form an excellent dining experience you won't soon forget.
For more information, please visit Café Americano online at cafeamericanovegas.com.
Source: http://lasvegas.informermg.com/2015/10/02/cafe-americano-offers-fresh-flavorful-take-cuisine/