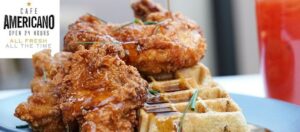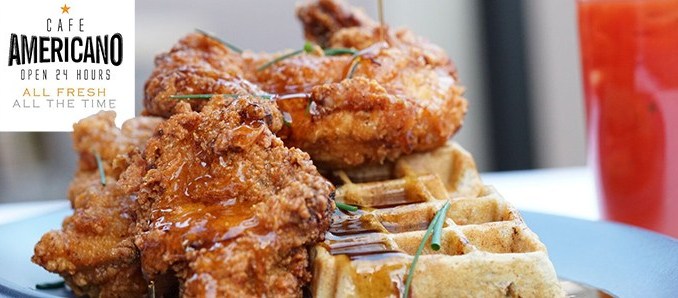 FOR THE BRINE
10 oz salt
8 oz sugar
1.5 oz garlic
1.5 ea lemons halved
1.5 ea limes halved
1 whole onion halved
½ ea celery stalk
1 ea bay leaf
½ cup black peppercorns
2 gallons water
½ bunch parsley leaves
CHICKEN
2 ea chicken breast
2 ea chicken thigh – boneless skin on
Place all ingredients in a stock pot and bring to a boil. Once it boils turn off and let it steep for one hour. Strain the brine through a colander and let cool. Once cool place chicken in brine and marinate for 24 hours.
FOR THE BUTTERMILK MARINADE
24 oz buttermilk
2 oz franks red hot
1 oz black peppers
Mix all ingredients in bowl until fully incorporated. Drain chicken from brine and place in buttermilk mixture for another 24 hours.
BLUE CORN WAFFLE MIX
6 oz waffle mix (any kind will work)
8 oz blue corn flour
4 oz melted butter
3 eggs
½ qt water
½ tsp salt
1 tsp sugar
3 ea cooked bacon strips (set aside)
Mix all wet ingredients in a bowl, then add all dry and mix until incorporated.
FRY FLOUR
24 oz flour
1 cup corn meal
¾ T paprika
¾ T garlic powder
¾ T Cayenne
1 T black pepper
¾ T salt
Mix all ingredients until fully incorporated
FRIED CHICKEN AND BLUE CORN WAFFLE METHOD
STEP 1
Remove chicken from buttermilk and coat with fry flour. Make sure to press flour into chicken.
STEP 2
Fry chicken in cast iron skillet or any type of fryer at 300 degrees for 15 to 20 minutes. If skin starts to become to dark take out and finish in oven at 350 degrees.
STEP 3
While chicken is frying, place the blue corn waffle mix in the waffle iron and add the 3 strips of bacon. Close lid and cook for 4 minutes.
STEP 4
Once chicken and waffle are done, place waffle on plate with chicken on top and serve with your favorite honey or syrup.
Full Article: https://www.fb101.com/2019/04/cafe-americanos-fried-chicken-and-blue-corn-waffle/