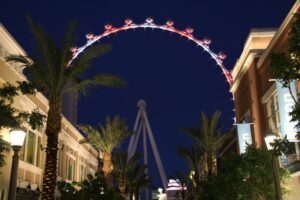 When you come to Las Vegas, there are certain things you absolutely must see as a visitor. One is the LINQ Promenade!
The LINQ Promenade is located between Flamingo Las Vegas and The LINQ Hotel & Casino. The Promenade is open from 10am to 2amevery day of the week. Right in the center of the strip, you'll find a 550-foot observation wheel as well.
Go up in the wheel (the tallest of its kind in the world!) and you'll be able to see all of Las Vegas, including the vast landscapes and multitude of architectural wonders.
Join us at Café Americano, Near The LINQ Promenade
When you're looking for some delicious late night (or afternoon) eats in the area surrounding The LINQ, look no further than Café Americano!
Café Americano is located very close to The LINQ and is open at all hours (24 hours a day, 7 days a week). With this schedule, we're always the place to go for a drink or a burger — no matter the hour, nor the day!
Make a Trip to the Strip!
The LINQ Promenade is part of the famous Las Vegas Strip. When you come to Las Vegas, The Strip is, of course, a must-visit part of town. While you're there, don't forget to visit The LINQ as well!
A marketplace of high energy, The LINQ has a more than 200,000 square foot area and tons of restaurants and shops to choose from. On The LINQ, you'll find tons of nightlife, bars, clubs, and more. There's something for everyone.
In addition to the many attractions on the promenade, you'll also find Brooklyn Bowl near The LINQ. This is a special music venue where visitors can bowl (there are 32 bowling lakes at Brooklyn Bowl!), eat at an in-house restaurant, and watch live performances.
What Are You Hungry For?
Being open 24 hours a day means we aim to please everyone. So, at Café Americano, we work hard to make sure we've got something for each and every palate, including yours!
If you're in the mood for something rather light, we recommend the soup and salad option. Choose from 8 soups and salads, including Clam Chowder, Southwest Chili, Caesar Salad, Chopped Salad, Steak Panzanella, Seared Tuna Salad, Quinoa Bowl, and Chicken & Avocado.
Of course, there is much more on the menu besides soups and salads, including salmon, tuna, appetizers, and more! It's all near the famous LINQ system.
Tell us what you think about it in the comments below!