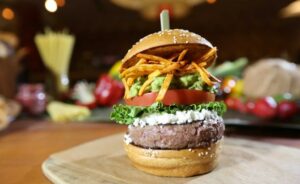 Sure, sure—the City That Never Sleeps is one of New York City's numerous iconic nicknames. But we contend that it could just as aptly refer to Las Vegas as well: We're the Entertainment Capital of the World, after all, and we'll hold our nocturnal energy and excitement up against the Big Apple's any day.
Here at Café Americano, we're the perfect Las Vegas eatery: open around the clock, 24 hours a day, each and every day of the Sin City year. We happen to call the main lobby of Caesars Palace home, too, thus putting our Latin-tinted American cuisine at the easy reach of the crowds frequenting one of the Vegas Strip's most iconic hotspots at all hours.
After-hours Wining & Dining at Café Americano: Our Late-Night Cravings Menu
Come 2 AM—a time when, to many Las Vegas visitors, the night is still very much young—we kick into gear here at Café Americano with our special Late Night Cravings menu. We offer this irresistible lineup of eats and drinks through 6 AM, thus covering any and all hungry diners during what might be called the "graveyard shift" in other cities, but which in Las Vegas is just another stretch of prime time.
Wet Your Whistle at Cafe Americano
We've got the late-night cocktails to befit any occasion in the Vegas wee hours: from the Twisted Tom to the Berried Treasure, from a full roster of Bloody Marys to caiprinhas, margaritas, mojitos, and other Café American Tropical Cocktails. (Of course, you'll also have refreshing brews, fine wines, and non-alcoholic bevvies at your beck and call as well.)
Appetizers & Entrees on the Cafe Americano Late Night Cravings Menu
A full night out on the Las Vegas Strip makes for a heavy-duty appetite, and that's where our Late Night Cravings menu comes to the speedy rescue: Our classic Burger, Americano Breakfast Sandwich, or BFE tastes mighty good on the heels of some after-hours adventures, as does our Crispy Calamari and our beer-brined Lollipop Wings (with BBQ or Buffalo sauce).
Join Us at Café Americano on a Late Night Out in Las Vegas
Whatever time of night it happens to be, you always know you can steer your hungry self toward Café Americano off the lobby of Caesars Palace for note-perfect comfort food and drink (not to mention note-perfect service). Come join us for some nocturnal dining!