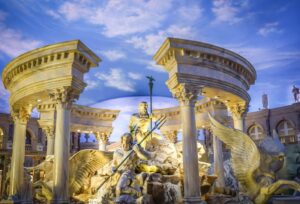 We probably don't have to tell you that the pace and tempo of Las Vegas aren't really much like your average city. The Entertainment Capital of the World is an around-the-clock sort of place, easily giving the City That Never Sleeps a run for its money.
Here at Café Americano, we're beautifully in sync with the Vegas rhythm: Our doors are open 24 hours a day (and each and every day of the year), and so is our kitchen. In this city, appetites are flaring up all through the night, and we're here to address them with our crowd-pleasing American comfort food, prepared with a dash or two of Latin inspiration. The fact that we occupy the main lobby of Caesars Palace—one of the epicenters of nightlife (and also day-life) in Las Vegas—means we take our after-hours job of feeding the nocturnal masses very seriously.
The Late Night Menu at Café Americano
Many an eatery's late night menu kicks in at something like 9 or 10 PM. Given our 24-hour operations, our Café Americano version doesn't get going until 2 AM, and runs through the rest of the night all the way to 6 AM. Whatever has you out and about in the wee hours, whether you're strolling in from the Caesars Palace casino or nightclubs or from somewhere else along the Las Vegas Strip, take advantage of our always-tasty late-night eats!
The Delights of the Café Americano Late Night Menu
Once you're past the 2 AM mark, your stomach often goes into cravings mode, which is why the Café Americano late night menu puts a giant smile on everybody's face. Order up some chicken wings, Southern-style crispy chicken fingers, or a platter of fresh guacamole and bliss out. Or perhaps nothing sounds quite so heavenly at this point of time than a burger, in which case you've got not one, not two, but three fine options to choose from: the straight-shooting Classic Burger, La Burger with its jalapeno relish and avocado, and the decked-out BFE, armed with double-stacked patties, American cheese, and our special sauce, among other accouterments.
Late Night Libations
Keep the nightlife going strong with an order off our full late night drink menu. Perhaps it's high time for one of our Specialty Cocktails: the Brown Derby, the Twisted Tom, Charger La Mule, or the Berried Treasure. Maybe a mojito, caipirinha, or another of our Tropical Cocktails is in order, or a champagne-based refreshment. Then again, you might just tap into your inner Rat Pack member and go the martini route. We've also got a full arsenal of bottled and draft beers as well as wine.
And if the hour seems to be demanding a Bloody Mary more than anything else, well, we've got you covered on that count as well…
Join Us for Late Night Dining at Café Americano
Hungry along the Las Vegas Strip after 2 AM? Well, don't ignore that fully awake appetite of yours: Trundle on down to Café Americano—we're always open, 24 hours a day and 365 days of the year—and tuck into our fabulous late night menu!