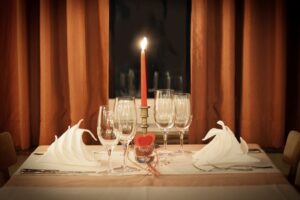 Café Americano in the Caesar's Palace Hotel in Las Vegas invites you to take your date out for a romantic lunch or dinner any day of the week!
February 14 is coming up, so a Valentine's Day treat may certainly be in order, but, of course, any day is perfect for a lovely meal or cocktails with you sweetheart!
Why Café Americano?
Unlike most of the other fine dining establishments located in Las Vegas, Café Americano is open 24 hours a day, seven days a week, 365 days per year. There is not a day or hour when we can't serve you up a delicious meal and drinks!
We like to say that our fare is the comfort food beloved by Americans mixed with a unique Latin twist. Our dining guests love the meals, appetizers and hors d'oeuvres, cocktails, and specials we serve, and we know you will too!
Our regular menu is always available from 11 AM to 11 PM daily. You can get everything from tacos and classic burgers to salads and make your own pizzas. We are located in the Las Vegas Caesar's Palace Hotel, which makes us convenient for hotel guests and visitors to the area as well. Our food is all fresh all the time!
Romance in Las Vegas
Many couples from around the nation (and the world!) come to Las Vegas to get married. It's the perfect spot for a convenient, worry- and stress-free, inexpensive wedding. It's also sure to provide lasting memories for you and your sweetheart.
Of course, whether you live here permanently or are in Las Vegas for your wedding, honeymoon, anniversary, or just a special getaway, it doesn't matter! We invite you to enjoy a romantic meal at Café Americano, which will be sure to please you both.
Our environment is perfect for setting the mood. We offer a low-key romantic style, with romantic lighting and luxurious decorations. The mood is high-class, yet comfortable.
Our Menu
Many of our guests who are couples come to enjoy dinner, and we have much to choose from. Start with an appetizer like grilled artichoke hearts or crispy calamari and move on to something more substantial for your main course.
Some of our most famous dishes are our Alaskan Halibut – pan roasted with grilled polenta cake, basil pesto, sun-dried tomatoes, artichokes, and herb butter — and our Cowboy Ribeye — a 22-ounce bone-in ribeye with house steak sauce and sweet potato and chorizo hash. Guests also love our pizzas, burgers, and tacos.
Ready for a romantic dinner or lunch out with your sweetheart in Las Vegas? We hope to you soon!