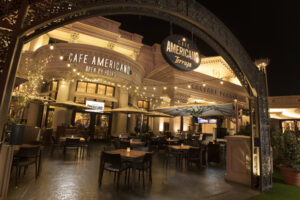 Las Vegas is an exciting town, to put it mildly, and as a 24-hour restaurant in the lobby of one of the Strip's truly legendary attractions—Caesars Palace—we're right in the thick of it all. Here at Café Americano, we generate our own bit of excitement each and every week with various dining specials and promotions well worth keeping track of!
You can do just that—keeping an eye on our Café Americano deals—right here. Meanwhile we'll put the spotlight on a couple of them here at the blog just to whet your appetite.
Taco Tuesdays at Café Americano
Heads up: Tuesdays are pretty awesome at Café Americano. Our Taco Tuesday deal runs all day long, every Tuesday: a reliable high point of the Las Vegas Strip dining week, we'll boldly say.
For one thing, you've got $4 tacos: Blackened Mahi Mahi, Baja Chicken, Chipotle Shrimp, and Short Rib, each one of them mouthwateringly good and priced so you can happily try all four.
The tacos go nicely with the adult beverages on the Taco Tuesday special menu. They include $8 tequila cocktails that'll definitely get you in the festive mood: the Classic Margarita, for one, and the Jalapeño Margarita and the Paloma Palace.
Then there are the $5 drinks: tequila shots and Jimador Silver, plus a few classic bottled beers—Corona and Modelo Especial.
Make Your Own Bloody Mary Bar
Speaking of adult beverages, another defining feature of the Café Americano experience is our Bloody Mary Bar: a make-your-own mixology station that lets you exercise your creativity and obey your taste buds to the fullest. Choose between various vodka, tequila, and gin options, your go-to base (tomato juice, house Bloody Mary mix, clamato juice, zing zang), and whatever sauces, garnishes, and extras—from beef jerky to spicy boiled shrimp—you please.
What better way to anchor a day out and about in Las Vegas than with a Bloody Mary of your very own concoction at Café Americano?
Join Us at Café Americano for Weekly Specials & More
Taco Tuesday and our Make Your Own Bloody Mary Bar are only the tip of the iceberg: We've got a whole slew of dining promotions and specials we regularly offer our guests, so it's worth keeping an eye on that page and getting in touch with us directly to inquire about what's on at any given point. We'd love to welcome you to our table any time of day or night here in the Caesars Palace lobby—Café Americano's always here when your appetite's hankering for some soul-nourishing eats and drinks!