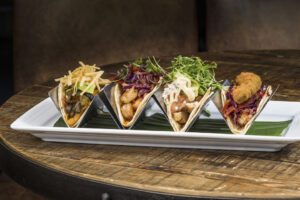 Café Americano is a famous restaurant near the Las Vegas Strip that is open 24 hours a day. Here, we offer everything from burgers and fries to soups and salads. We're comfort food for your soul, and we're here to serve you!
One of our most famous events at Café Americano is Taco Tuesday. You may have heard of Taco Tuesday from other restaurants, but no one can compete with the Taco Tuesday event held every Tuesday at Café Americano!
If you love great (and authentic!) tacos, you'll love Café Americano!
About The Taco Tuesday Menu
We like to keep things basic at Café Americano. That's why our Taco Tuesday is straightforward and to the point!
We basically offer three taco-related deals for you to choose from:
Tacos
Our delectable tacos on Taco Tuesday are just $4 a piece! Get as many or as few as you want to eat. They're all $4.
Several taco options are available, and all come with uniquely fresh ingredients. Here are the tacos you can choose from
– Blackened Mahi Mahi Taco
– Baja Chicken Taco
– Short Rib Taco
– Chipotle Shrimp
All of these are available at Café Americano.
Cocktails
Once you've placed your food order for tacos, let us take care of the rest! We have both cocktails and special beers available to warm you up!
Our cocktails are authentically Mexican. For Taco Tuesday, all of the following cocktails will be made just for you, for $8 each:
PalomaPalace: This is a fresh cocktail that's great for summer! It includes Aperol, Black Sea Salt, EL Jimador Tequila, and a flash of fresh lemon.
Jalapeno Margarita: This drink uses fresh lime juice instead of lemon and pairs that with El JimadorTequila Silver, Simple Syrup, and dehydrating liqueur.
Lastly, we have the $8 Jalapeno Margarita: This drink is spicy! It includes Fresh Sour, Cucumber Infused Tequila, and jalapeno pepper. 
Beers
Of course, no taco night is complete without beer! If you'd rather forego the cocktail for Taco Tuesday, we totally understand. There's nothing quite like a brew and some delectable, homemade tacos.
Our beer specials on Taco Tuesday are all $5 each. Beers on special include Tequila Shot, Modelo Especial, Corona, and Jimador Silver.
Have you been hungry for the best tacos in town? Look no further than our establishment, Café Americano!
We're open 24 hours a day and always here to serve you!