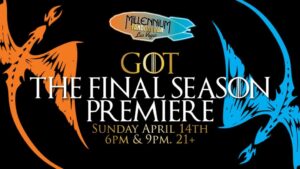 If you are a fan of Game of Thrones, you might be interested in the following:
The Millennium Fandom Bar in downtown Las Vegas is hosting a viewing party for the final season premiere for GOT on April 14. Before that, The Roast of Jon Snow will take place on the 11th and a Game of Thrones Cosplay Party is happening April 13. Seating will be limited at viewing party.
DW Bistro is hosting a special Game of Thrones Brunch on April 14. There will be a mule bar from Owen's Craft Mixers, GOT-themed dishes, and chalices of signature cocktails. The brunch is from 10 a.m. to 3 p.m.
Hofbrauhaus on Paradise Road is hosting The Ultimate GOT Party on April 14.
Cafe Americano is hosting a GOT kickoff party on April 14. Watch the first episode of the final season on a giant 16-foot outdoor screen while sipping Game of Thrones-inspired beverages.
The Nerd is hosting a watch party and $3K cosplay contest on April 14. Enjoy knights fighting in cages, themed cocktails, official GOT beer and more.
Shake Shack is offering a special Game of Thrones menu nationwide. The menu consists of the Dragonglass Shake (available at all Shake Shack locations – The District at Green Valley Ranch in Henderson, Downtown Summerlin, North Premium Outlets and New York-New York Hotel & Casino) and the Dracarys Burger which will ONLY be available at the New York-New York Hotel & Casino location!
The Dracarys Burger (Drakaro Parkliapos) features a double Monterey Jack cheeseburger sourced from the finest head of cattle The Seven Kingdoms has to offer. Griddled by the fires of Drogon and Rhaegal, the burger is then topped with a fiery ShackSauce created from herbs and spices sourced from the conquered cities ofYunhai, Meeren and Astapor. The final touch are slabs ofbacon imported from Essos—a Dothraki delicacy. Caution: may be too hot for non-Targaryens.
Therapy restaurant in downtown Las Vegas is celebrating the final season premiere with a special cocktail named The Jon Snow. It's made with rum, Godiva white chocolate and orgeat and topped with golden whipped cream and garnished with a raspberry. Cost is $10 per cocktail.
The+Source Dispensaries will offer White Walker OG productsto celebrate the final season premiere of the popular HBO series.
Full Article: https://www.ktnv.com/positivelylv/dining-and-entertainment/viewing-parties-and-more-for-game-of-thrones-final-season-premiere